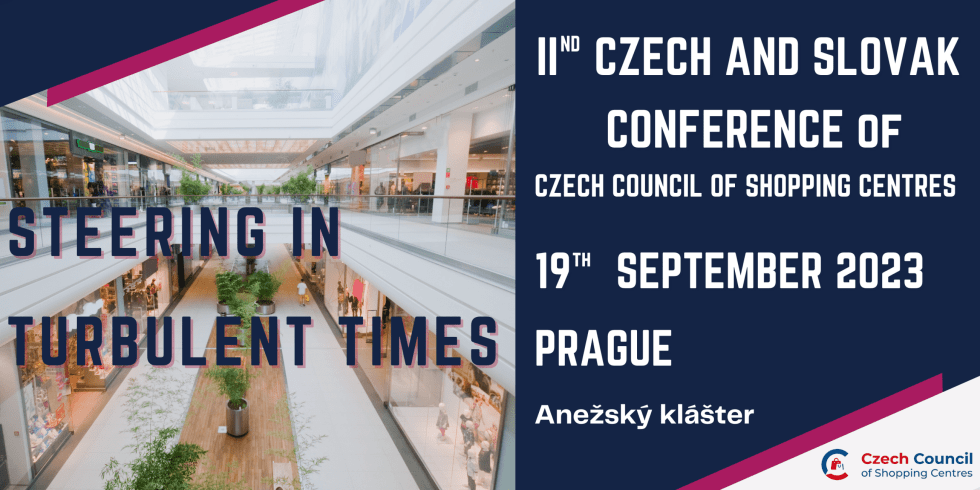 Event & Membership Working Committee of Czech Council of Shopping Centres invites you to II. CZECH AND SLOVAK CONFERENCE OF CZECH COUNCIL OF SHOPPING CENTRES, called ''STEERING IN TURBULENT TIMES'', in the unique space in the historical heart of Prague.
The conference shall focus on challenges and opportunities that Czech and Slovak retailers and landlords are facing due to a high inflationary enviroment, political insecurity, economic uncertainty and ESG factors shaping our retail industry.

Czech Council of Shopping Centres invites group of retail industry professionals including landlords, retailers, economic experts, analysts and a global futurologist to discuss the current socio-economic and enviromental developments. List of keynotes can check HERE. The conference will be moderated by Michaela Nováková (Česká televize).
The program of conference will be simultaneously translated into English.
JOIN US FOR THIS UNIQUE CONFERENCE IN PRAGUE AND GAIN
CLARITY ON HOW TO NAVIGATE THROUGH THESE TIMES OF CHANGE.